In the Middle of Everything!
That's Alma! The wonder and beauty of the great State of Michigan is easily accessible from Alma. We are located where M46 and US127 come together in the middle of the state. Alma's a great place to live and raise a family. We are proud of our quaint, walkable downtown that continues to improve with new restaurants, shops and apartments. Being the home of the Alma College Scots, we provide opportunities for the arts and culture that rival much larger cities. Come and see how nice it can be to be living in the #inthemiddleofeverything #almami
Current Municipal Building Hours
Due to the latest Michigan Department of Health and Human Services Emergency Order the Municipal Building Service Counter will be open Monday - Friday 9:30 am - 11:30 am and 12:30 pm - 4:00 pm. A portion of city staff is currently working remotely. This is being done to accommodate social distancing protocols in the building.

We are still available by phone or email. We would appreciate if you would use the directory and call for an appointment. Link to Staff Directory

If you come to the building a mask is required and we ask that you read the COVID questions posted on our doors. If you are uncomfortable entering the building call us by utilizing the staff directory on this page.

We encourage everyone to use the drop boxes located in front of the west doors or at the library drive.
City of Alma Drop Box Locations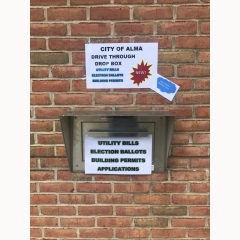 Need to pay a utility bill or drop off a permit? During these unprecedented times we are trying to make life a little easier. The City has two drop box locations for your convenience.
1. Drive up drop box located at the Alma Public Library. No need to get out of your car. The box is 1 of 3 located in the library drive - the box is clearly labeled for the City of Alma. Please be sure you are dropping payments and important documents in the box for the City - not in the book return! Hope it helps!
2. Silver drop box located just outside the west doors of the Municipal Building next to the mail box.